iRed2 is the ultimately flexible remote control - use it on your Mac or on your iPhone!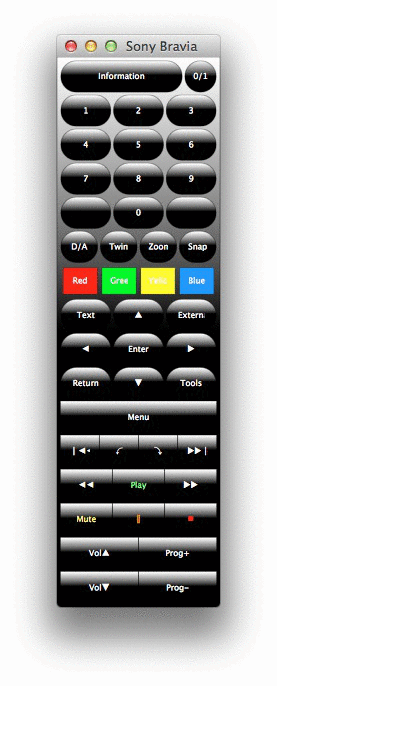 Control your HiFi, Video, DVD, whatever, by infrared from your Mac (*)
Supports IR modules from IRTrans (USB, LAN, WiFi) and Global Caché (GC-100, iTach)
Create your own remote controls with iRed's graphical editor
Control iTunes from your mobile device - best from the iPhone or iPod touch!
Control your PowerPoint or Keynote presentation - using your iPhone or an Apple Remote
Please visit the demo videos page to see what's possible, or check the screenshot gallery.
iRed2 2.4 is the latest version. It is 64-bit and has been tested with macOS Catalina. Please go to the download page. or see Release Notes.
Purchase your license within minutes on the FastSpring Store.
iRedTouch HD was designed especially for the iPad, available on the App Store.
---
CAUTION: This site "iRed" is not related to another site (numbert.net) with some IR hardware called "iRed(tm)".: Please have a look at the App Store for the reviews of the free apps behind this hardware (App Store). After reading these you will see why I, tinbert, don't want be confused with 'numbert'
---
Control your Mac with your Apple Remote(s)

Not only Front Row, but also iTunes, PowerPoint (tm), Keynote, QuickTime Player, VLC Player, ...

You might not know that every Apple Remote is different, but iRed can distinguish up to 256 different Apple Remotes. You can dedicate one Apple Remote to iTunes, another one to iPhoto. You don't need to buy hundreds of these - any programmable remote may learn Apple Remote codes. Please note that for this feature your Mac needs a built-in IR port. Unfortunately Apple has removed the IR port from new (2012) MacBooks (Pro and Air). What a bummer 🙁
Control your HiFi/DVD/TV/Satellite devices, right from your Mac

iRed was built with infrared in mind. In conjunction with a device like the IRTrans USB or LAN module, you can transmit IR codes to your devices. While sitting at your Mac, you can control your amplifier or switch channels on your satellite receiver with one click. With iRed's trigger features, it is even possible to use system-wide shortcuts, or you can use iRed's built-in timers for scheduled recordings!
All this and more from your iPhone or iPod Touch!

Everything which can be controlled from the Mac, is now at your fingertips on the iPhone or iPod Touch.

Control your HiFi/video devices, do your PowerPoint presentation, even send your Mac to sleep, all remotely from the sofa in your local WLAN or on-the-go via the Internet! No need for "jailbreaking" the iPhone, because the built-in Mobile Safari is enough to talk to iRed.

A native iPhone application is available from the App Store, too! It's called iRedTouch.

For the iPad, a special app named iRedTouch HD is available, also on the App Store.
Supported Modules

If you want to control your TV, audio, DVD, ..., an infrared (IR) module is required.

iRed was initially built for the IRTrans transceivers. These are available as USB, LAN or WiFi modules, are small and have a sleek design. The infrared capabilities are very good, they can learn and transmit about every IR code.

With iRed2 V2.1, support for Global Caché's GC-100 and their brand new iTach has been added.
License, System Requirements, etc.

iRed2 is shareware and costs $20 / 15 Euro (+VAT), respectively. Licenses may be purchased securely via FastSpring within minutes.

Please note: if you purchase certain IRTrans modules, you'll get the license for free. Please look for the "Mac" version when ordering an IRTrans from IRTrans GmbH.

iRed 2 requires Mac OS X 10.6.8 (Snow Leopard) or later, including 10.12 (Sierra). So far we found no problems on this newest Mac OS X.
(*) This requires an IR module. See this page for details.